Drainage ponds can be plus for neighborhoods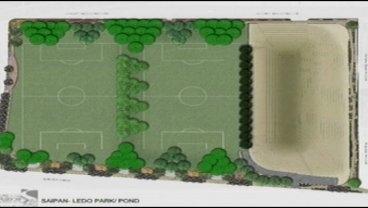 El Paso City Council approves bond
Sponsered Links
As seen on KFOX14 News
By Ruben Veloz, May 2012

EL PASO, Texas

They can be beneficial or they can be an eyesore, but the drainage ponds, such as the one near the old Saipan neighborhood in south central El Paso, have made a difference in preventing floods and attracting visitiors.
"You come by on Saturdays and Sundays and there's literally a hundred cars lining the street here and hundreds of kids out there playing soccer and football," said local businessman Tracy McIntyre.
McIntyre owns a business in the area and has liked how many people the mixed-use pond has attracted; he plans on building an apartment complex across the street.
"The park's increased the value in the area and it's brought some new ideas to the area," said McIntyre.
El Paso City Council approved the use of $15 million in bonds, Tuesday, to build or upgrade more drainage ponds. But, what Rep. Courtney Niland doesn't want are ponds that serve only one use.
"I'd like to see it invested in shrubbery, grass spaces, green spaces, tree places where we can actually use (them) for kids to play, said Niland.
El Paso Water Utilities acquired the old Saipan village after the heavy floods in 2006.
Approval of the new bond could mean that more places such as this could be built where children can play.
"It was kind of hard on some of the residents, but it's definitely brought property values in the area up," said McIntyre.
El Paso Water Utilities tells KFOX14 News they're going to work with City Council officials to make both sides happy.
"We're trying to work with the city to convert certain ponds in to dual-use parks and ponds," said EPWU Chief Financial Officer marcela Navarrete.
McIntyre hopes the city water utility service board does the right thing instead of doing what's easiest.
"It's certainily much more useable, and beautiful," said McIntyre.
ANGIE'S PEACE FOR THE MONTH
" We will recieve not what we idly wish for but what we
justly earn. Our rewards will always be in exact proportion
to our service."
Earl Nightingale
1922-1989, Author and syndicated Radio Commentator